Minigraver 800kg minigraver gravemaskine
LT- 08: 11.7hp, 800kg, 0.025 cbm skovle, grave dør: 1650mm, kan udstyres med Auger, Trægrib, Tag, Ripper, Rake, 200mm Smal Emmer, 380mm Standard Skovl, 500mm Leveling Skovl .

I. introduktion af produktet:

1. Fremragende arbejdseffektivitet og fremragende omkostningseffektivitet.

2, standardkonfigurationen af ​​bulldozer spade kan udjævne jorden, jordfyldning, øge stabiliteten af ​​hele maskinen.

3, enkel betjening, lille og fleksibel, nem at transportere, kan arbejde på et smalt sted, specielt velegnet til plantager som macaques ferskenplantage, vingård, appelsinplantage græsning, befrugtning, ukrudt og så videre.

4. Den lille gravemaskine har funktionerne til at grave, knuse, grøfte clearing, boring og jordskubning, som hurtigt kan erstatte tilbehør og forbedre maskinens udnyttelsesgrad.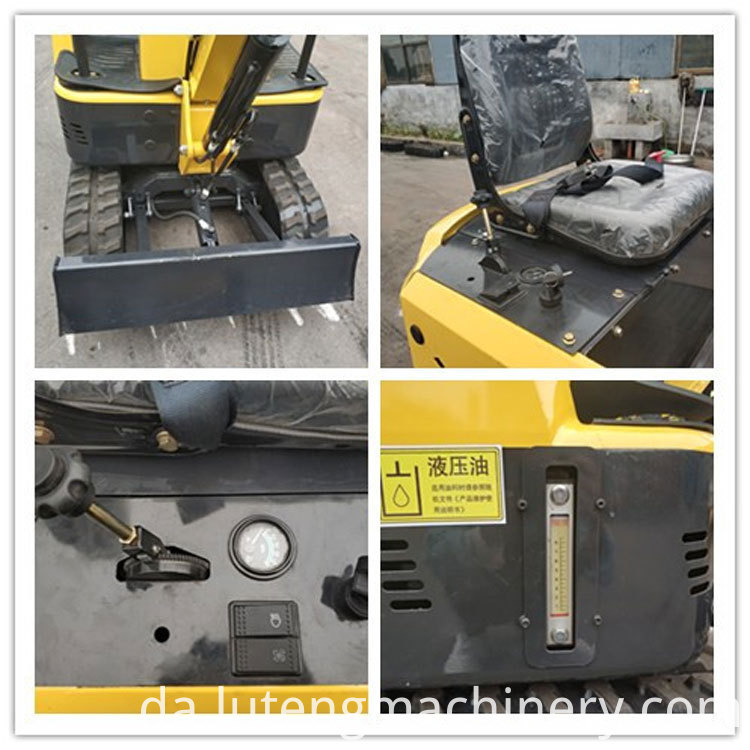 Produkt pramaters

Model

LT-08

Operating Weight

800kg

Digging bucket capacity

0.02cbm/120kg

Digging bucket width

350mm, can add narrow bucket is 200mm

Engine

KOOP(KD192F)

Rated power

8.6kw/1800r/min

Displacement

0.211 L

Main pump

single cylinder, fan cool

Valve

BEIFANG

Displacement

6.8ml/r

Swing motor

SJ-TECH (MP-1-160)

Traveling motor

KERSEN (OMS-2450

Main Specifications

Overall dimension( LxWxH)

2770x896x1490 mm

Wheelbase

910 mm

Total length of track on land

1230mm

Platform ground clearance

380 mm

Platform back turning radius

784 mm

Chassis width

896 mm

Track width

130 mm

Chassis ground clearance

132 mm

Track height

320 mm

Overall range

Max. Digging depth

1650 mm

Max. Vertical digging depth

1375 mm

Max. Digging height

2610 mm

Max. Dumping height

1850 mm

Max. Digging radius on ground

2850 mm

Min. Rotation radius

1330 mm

Max. Upgrade height of bulldozer blade

345 mm

Max. Digging depth of bulldozer blade

255 mm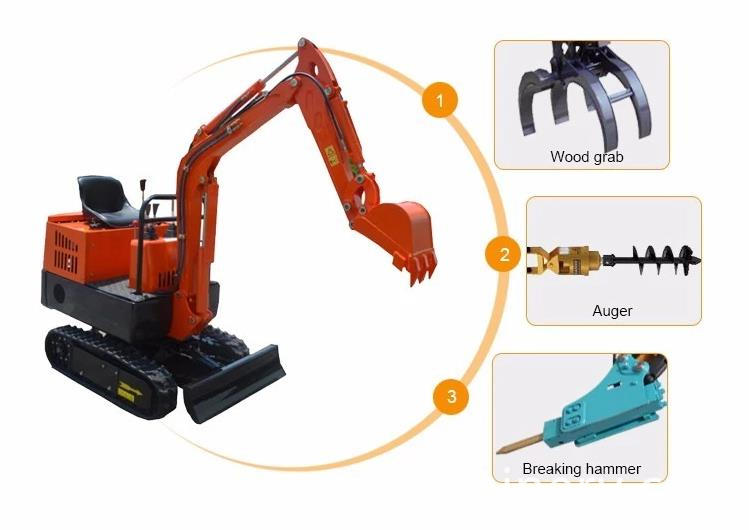 :

ARBEJDSHOP SHOW: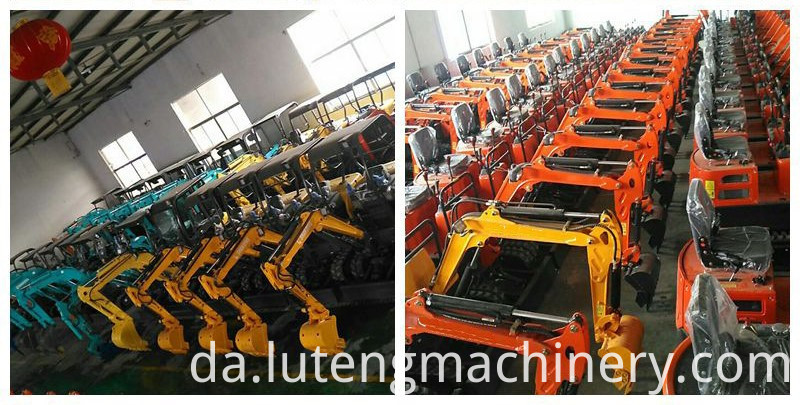 PAKNING OG SHIPPING:

Shandong Luteng Machinery Co, Ltd er en professionel Byggemaskiner, vejmaskiner, jordarbejde maskiner, ingeniør maskiner fabrikanten i Kina, som blev grundlagt i 2002 og ligger i hjembyen Confucius og Mencius -Jining City, Shandong Province.It er en af maskiner fremstillingsbaser i Kina. De vigtigste produkter omfatter:
Rock Drill serien, Dry-mix Shotcrete Machine serien, Wet-mix Shotcrete Machine serien, Grouting Machine / Pump serien, Automatisk Feeding Shotcrete Unit serie, Truck-monteret Wet-mix Shotcrete Machine serien, CNC stål udstyr. CNC Stirrup bøjemaskine, Dobbelt hoved bøjning maskine, Cage svejsemaskine. Byggemaskiner, vejmaskiner, road roller, earthworkmachinery, gravemaskine.engineering maskiner, borerig maskine, beton maskiner og så videre.
Virksomheden har et stærkt forskningspersonale med stor erfaring og produktion af nyskabende tænkning. Vi er i stand til at give vores kunder topkvalitetsprodukter, konkurrencedygtig pris, hurtig levering og tilfredsstillende service. Vi kan også tilpasse ikke-standardmaskiner efter dine krav.
I mellemtiden kan vi også tilbyde oversøiske installationer, træning, vedligeholdelse, idriftsættelse til hver klient og bekræfte, at de kan betjene Luteng-maskinen korrekt og nyde den ydeevne og bedste service under drift.
Vi hilses velkommen indenlandske og internationale offentlige kommunikationsopkald og forespørgsler.
Håber vores absolutte oprigtighed samarbejde, skaber pragtfuldt på grundlag af gensidig fordel, skabe strålende!
Selskabets vigtigste produkter er byggemaskiner: lille gravemaskine;
Gravemaskine;
Hjul type træ grib;
Bæltegraver.
En række gravemaskiner olietank, byggematerialer strukturelle dele, dækdele, pumpe truck ramme og beskyttelsesdæksel, alle former for stationudstyr, ikke-standard produktion.
Konstruktionsudstyr: gruppe til gruppeværktøj, svejsepositionveksler mv.
Produktkategorier : Gravemaskine