LT-XYX-2 trailermonteret bærbar borerigg til vandbrønd
Produkt introduktion:

Virksomheden er specialiseret i produktion og salg af boremaskine, hydraulisk boremaskine, bundfældingsboremaskine, jordkilde varmepumpe boremaskine.
Boredybde 10-200 meter, diameter 80-1300mm, velegnet til jordlag, kviksandlag, et lille antal sten- og jordlag.
Riggen er let at installere og flytte.
Borehastigheden er hurtig, 20-40 meter i timen.
Boreriggen er 3,8 m i arbejdshøjde og 1,9 m i ikke arbejdshøjde, velegnet til boring overalt.
Bormaskine hydraulisk løftning, roterende hovedeffekt er 5,5-7,5-11kw, lav støj.
Enkelt design, holdbar, let vedligeholdelse.
Bore rør automatisk og op, ned og ned bore rørhastighed er meget hurtig (et halvt minut op og ned et bor rør), bore rør samlinger gennem høj frekvens varmebehandling, ikke slid.
Hydraulisk boremaskine, let vægt (ca. 700 kg), let at tænde og slukke for bilen, udstyret med et reol, håndhejse, let at tænde og slukke for bilen hurtigt.
Pneumatisk boremaskine crawler ned hulboremaskine høj støtte ben crawler pneumatisk boremaskine crawler boremaskine, boremaskine
Denne boremaskine er det ideelle valg af grundvandsfældningsbrønd, brøndpunkt nedbør, jordvarme og aircondition, jordkilde varmepumpe, vandbrønd til fabrik, vandbrønd til landbrug og vandbrønd til familie.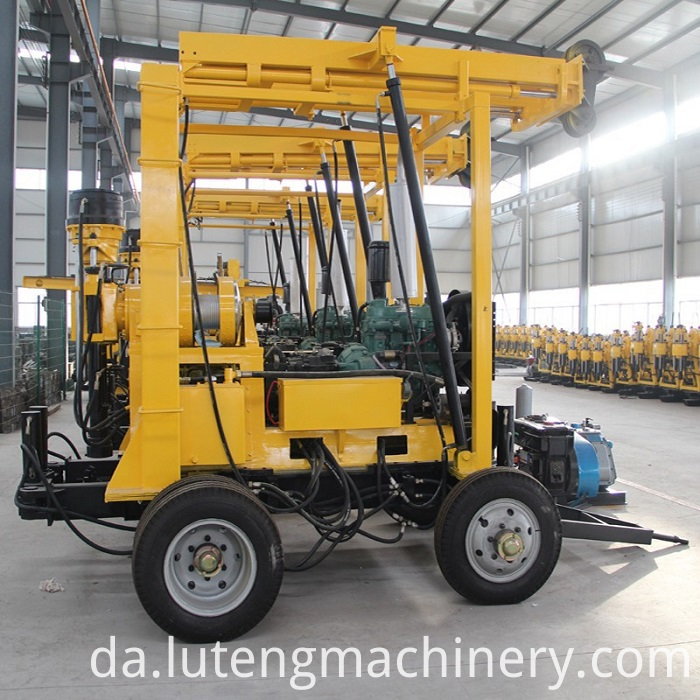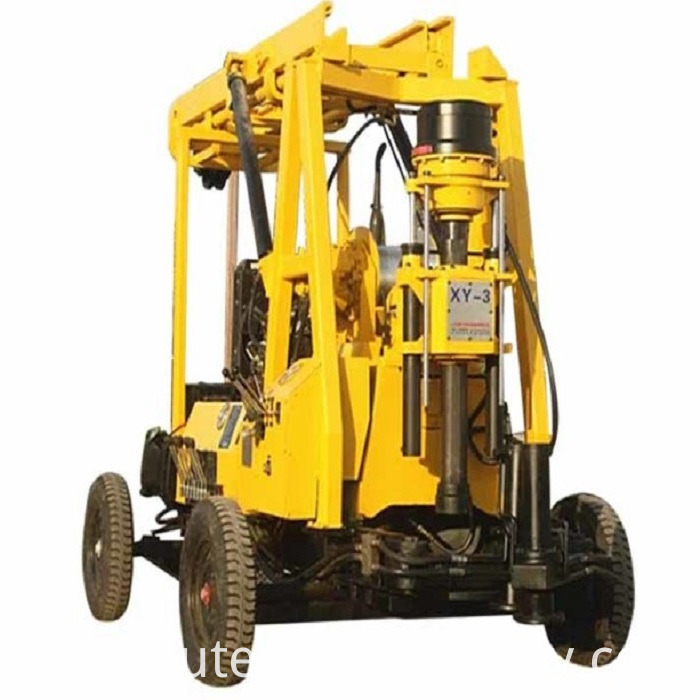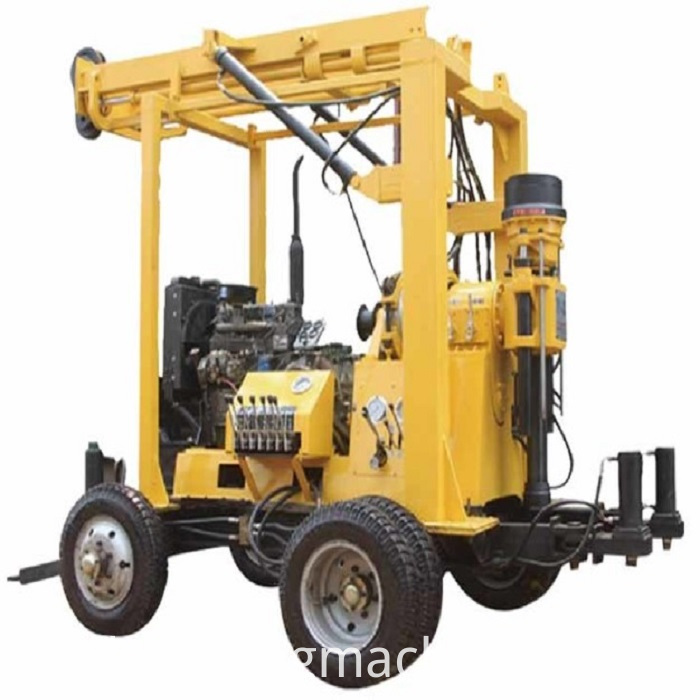 Produktegenskaber: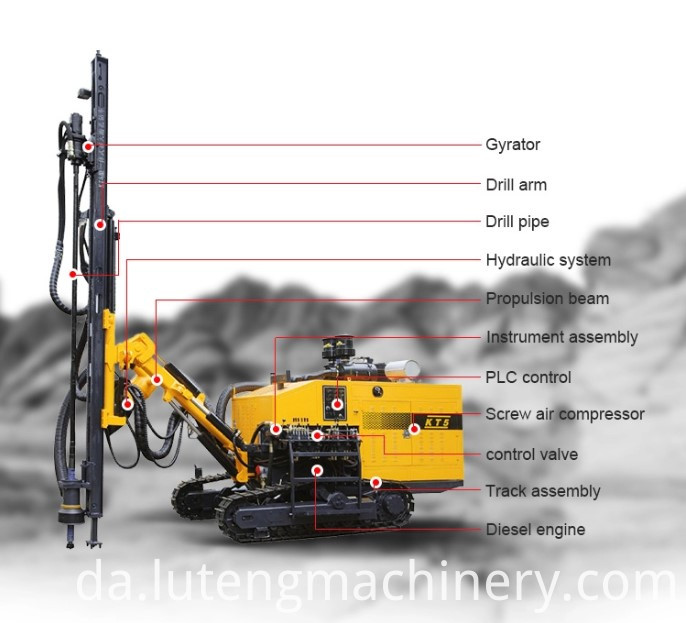 TEKNISK PARAMETER: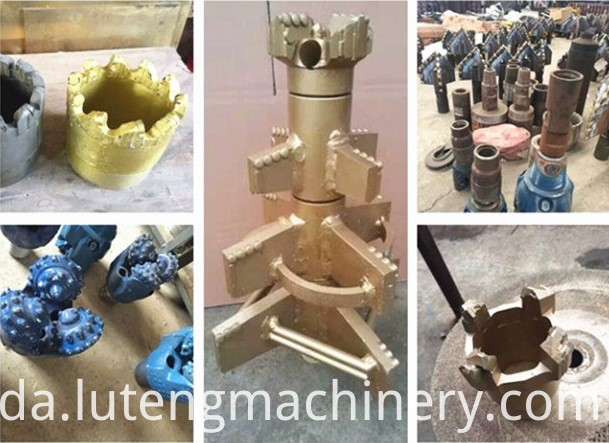 Vigtigste funktioner i LTDRXY-200F borerigg til vandbrønd
(1) Med integreret hydraulisk boretårn understøttet af to høje styrke oliecylinder
(2) Den anvendte køretøjstype med chassis, har hjul og trækkraft, kan trækkes direkte af en traktor eller lastbil
(3) Chassis har fire højstyrke gevindben (eller hydrauliske ben), hurtige og praktiske at installere
(4) Bruger den elektriske start-dieselmotor, reducerer operatørernes arbejdsintensitet i høj grad
(5) Maskinen er udstyret med et komplet sæt uafhængig BW - 160 mudderpumpe
Specifications

Unity machine parameter

Drilling depth

30--200m

End hole caliber

500-75mm

Drill rod caliber

50mm

Drilling angle

90°~75°

Spindle

spindle speed

64,128,287,557r/min

Spindle stroke

450mm

Hoist

Max.single line hoisting capacity

2400kg

Single line lifting speed

17,35,75,151r/min

Tightrope caliber

12.5mm

Tightrope cubic measure

35m

Hug floodgate caliber

254mm

Hug folldgate belt width

70mm

Distance between drill and hole

400mm
Engineering Projects: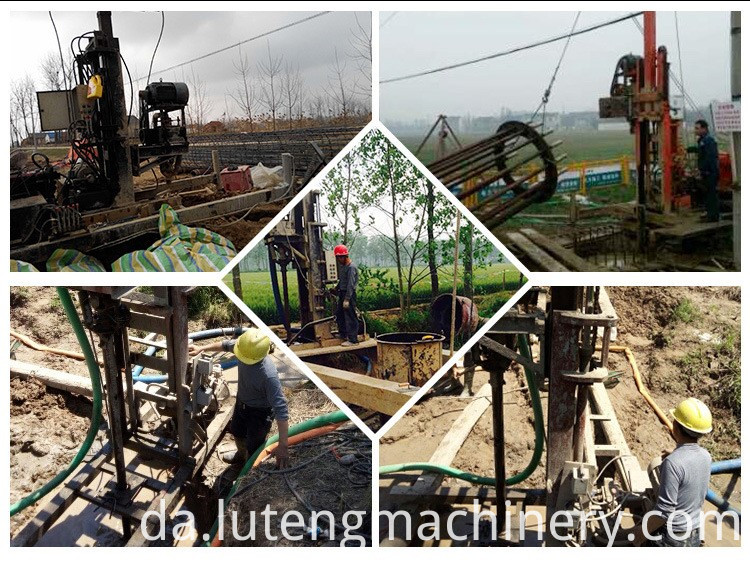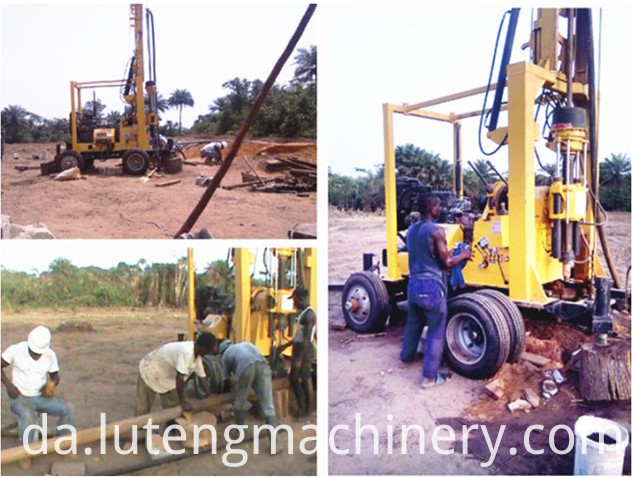 Shandong Luteng Machinery Co., Ltd. is a professional Construction machinery, road machinery, earthwork machinery, engineering machinery manufacturer in China, which was established in 2002 and located in the hometown of Confucius and Mencius -Jining City, Shandong Province.It is one of the machinery manufacturing bases of China . Our main products are: CNC Stirrup bending machine, Double head bending machine, Cage welding machine.Construction machinery, roadmachinery, earthworkmachinery, engineering machinery,drilling rig machine, concrete machinery and so on.
The company has a strong research personnel, with rich experience and the production of innovative thinking. We are able to provide our customers top quality products, competitive price, fast delivery and satisfactory service.We also can customize non-standard machines according to your requirement.
Meanwhile, we can also offer overseas installation, training, maintenance, commissioning for each client and confirm they can operate Luteng machine properly and enjoy the high performance and best service during operation.
We sincerely welcome domestic and international public communication calls and inquiries.
Hopes our absolute sincerity cooperation, creates magnificently on the basis of mutual benefit, create brilliant!
Produktkategorier : Bore Rig